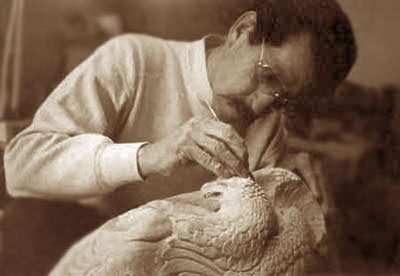 Joseph Jacobs Museum
Tuscarora Nation Grand Opening

by Sue Wilson (Tuscarora Deer-Clan)
Tour Director of the Joseph Jacobs Museum
The grand opening of the new Joseph Jacobs Museum was held Sunday, October 7th, 2000. The Joseph Jacobs Museum is a Native American Museum on the Tuscarora Indian Reservation located in the heart of Niagara County, ten minutes from Niagara Falls, New York. A triumph of business ingenuity and creative capital, the Museum is the result of a unique collaboration between community members, Joseph Anderson, Joseph Jacobs and Simon Brascoupe. Together, their vision of strengthening and preserving Native culture and rebuilding tourism in a depressed Niagara area economy is being realized. Because of this it can be seen as a bridge between Tuscarora and its neighbors.
Joseph Anderson, a member of the Tuscarora Indian Nation, is the sole financial sponsor of the museum. Having been born and raised on the Tuscarora Reservation, he fully understands the obstacles and adversity with which his Native people struggle with on a regular basis, particularly when trying to thrive and preserve their culture as it emulates their identity. Fortunately, such obstacles and adversity do not deteriorate this warrior's spirit. On the contrary, he has a perpetual disposition that is ever striving for advancement. He embodies endless entrepreneurial energy that has enabled him to become a well-known Native industrialist and entrepreneur who opened the first Native American cigarette factory. Echoing a proudly firm grasp of his Native American identity, together with his cultural collaborators, Anderson has built the museum to realize his vision of Native-based cultural tourism as a means of maintaining culture and community economic renewal.
The museum hosts the works of Tuscarora's own internationally famous sculptor, Joseph Jacobs. It is dedicated to his dynamic vision of Iroquois culture as his sculptures penetrate deeply into the ancient knowledge and traditions of his Iroquois people. His artistic production breathes renewed life as a sign of strong culture within the Tuscarora. As a powerful genius to the soapstone medium, his artistic vision has influenced an entire school of contemporary Iroquois stone carvers.As a recognized master of the stone medium, his works have been published in National Geographic and Canadian Geographical magazines and he has been featured in a CBS documentary "Spirits Speaking Through." He also received an honorary doctorate degree from Trent University. In 1981,Jacobs was commissioned by the Canadian House of Commons to create a sculpture commemorating the Iroquois' Great Law of Peace. The limestone, five-panel work took four-and-a-half years to create and is permanently installed in the Canadian House of Commons. He was awarded the Order of Canada in 1985 for his contributions to the Canadian Native Art Heritage.
Exhibitions of Jacobs' carving, polishing and re-etching techniques in rock allows viewers to rediscover the ancient knowledge of the Iroquois through aboriginal mediums. Jacobs brings a strong voice to his Tuscarora roots, Iroquois history, and history associated with the Niagara Falls region. "I want to give permanence in stone to the legends of my people." The museum proudly features his most recent and perhaps greatest works where we can witness a renaissance of Aboriginal art and Joseph Jacobs as one of the masters.
The museum also exhibits the paintings of internationally known artist Simon Brascoupe, who is also the Director of the museum. Simon's recent work focuses on his Iroquois culture, particularly his own Tuscarora culture. By returning to his cultural roots, the artist has transformed oral tradition and strong verbal images into his originals and prints on canvas and paper, which are made by traditional Native stencil (pochoir) technique. His profound knowledge of Iroquois symbolism is characteristic of his work. His artistic vision is to understand traditional values and teachings through the continuity of image and narrative. Also having been born and raised on the Tuscarora Reservation, Brascoupe is a Lecturer in the Department of Native Studies at Trent University, Ontario and an Adjunct Research Professor at Charleton University.
He has a M.A. from State University of New York at Buffalo where he is completing his Ph.D. His work has been exhibited in the United States, Canada, Europe, Asia, China and Cuba. He is represented in the collections at the Smithsonian Institute, Washington, D.C. and the Canadian Museum of Civilization, Canada. His work is also in major corporate and private collections.
In addition to exhibiting Simon's paintings and works on paper the museum is showing his photography exhibition of contemporary Native life entitled "Celebration of Creation."
Located within the museum complex is a community workshop area dedicated in honor of the late Wallace "Mad Bear" Anderson. Wallace's life-long dedication to Human and Native Rights has been honored by including a brief history of his accomplishments and creating a resource center that encourages research of Native American studies, particularly the Tuscarora and Iroquois history. Here visitors can access several high quality inter-active computers with advanced touch-screen hardware to accompany researching needs.
The museum workshop area will feature rotating exhibits of various Native American artists participating in the workshops. Also within the workshop area, visitors are encouraged to experience Native American arts, crafts and cultural activities through a hands-on approach, along-side Native American artisans as guides.
Visitors will be delighted with the wide range of Native American arts and crafts created by local Native artists available for sale in the museum gift shop. In addition to works created in the community workshop, they include Joseph Jacobs bronzes, Simon Brascoupe originals, prints, clothing, jewelry, crafts and much more. The museum shop also has an excellent collection of books and educational materials of culturally appropriate Native American subject matter, particularly Tuscarora and Iroquois.
The museum is free to the public with the option to pay for either guided or self-guided tours. The doors will officially opened on Sunday, October 8th at 1:00pm. Museum hours are: Monday - Saturday 10am-5pm, Sunday noon-5pm. The museum will be closed on most major holidays and on Mondays through the off-season.
The website address is www.smokinjoe.com where the public can learn more about Joseph Anderson's business enterprises surrounding the museum complex and email their questions and comments regarding the museum.
---