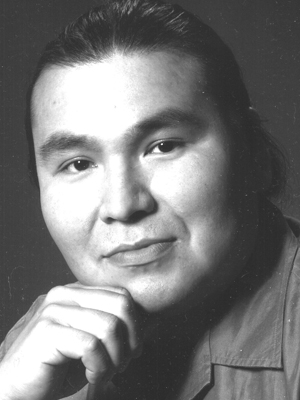 Trevino L. Brings Plenty
1. The last pow wow I attended was a New Year's pow wow in the Portland Armory. An owl dance was announced and a girl asked me to dance. I turned her down.
As was the rule I had to give her money and apologize, I didn't. I sat in a gray folding chair as the announcer pointed in my direction. Everyone looked my direction, but I wasn't ashamed.
"I don't have any money," I yelled. "I'm an Indian man without his language and land."
Everyone nodded in agreement and I shook my head. I thought as I sat there of why the girl asked me to dance. She might have wanted love. She might have wanted Indian children. She might have wanted happiness. She might have wanted to save an Indian man without his language and without a home.
2. That was the last time I attempted murder with a big, cheap bottle of red wine and three boxes of sleeping pills. A year later in the south park blocks a friend said an Indian writer killed himself in the J.F.K. airport.
I thanked her for the information. She walked on and I sat on a bench. I let the hot tears roll down my cold face.
I'm sorry my friends if I scared you, but I was scared myself.
3. A Northwest Indian complained about Plains Indians who have migrated to his Northwest.
In my case I told him I came to destroy myself and have my ashes thrown into the Pacific Ocean.
He looked at me without saying a word and walked away.
4. I sat with a lady friend in a corner café. A Lakota elder saw me through the front window. He came into the café and asked to talk with me outside.
The elder said he didn't like the idea of an Indian man who was friends with a white woman. Then he asked if he could borrow a couple of dollars. "Love is hard to find with any person," I said to him. "You got to think of your people," he said.
"That's my problem. I can't stop thinking of my people. It's my people who make me think of my people."
"You urban Indians are all the same."
"Thank you, I needed the validation from an elder asshole."
He looked at me mean and grabbed the dollar from my hand and walked off.
My lady friend paid for the coffee. We left the café and went back to her place and drank wine and made love on the couch, then in the bathroom, and finally on her bed.
~Trevino L. Brings Plenty

Trevino L. Brings Plenty was born on the Cheyenne River Sioux Reservation, Eagle Butte, SD. A Minneconjou Lakota Indian, he lived on the reservation until age three, then with family moved to the San Francisco Bay Area. At age 16, he moved to Portland, OR, where he now resides. He is 55/64 Lakota, the 9/64 is unknown (probably fur trapper). To order his book "Real Indian Junk Jewelry", got to www.thebackwaterspress.org